Safety Induction Video/
SEW Infrastructure Ltd.

Construction workers are plainly bored by the instructional tone of safety training videos. How to get around their recalcitrance and put them in a more receptive frame of mind was the main problem.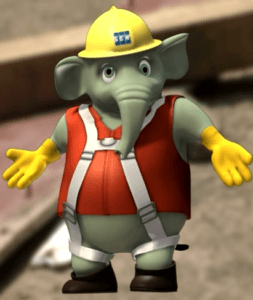 So we came up with Ganesha, a lively animated character as a special mascot for the safety awareness program. He dons the role of an experienced worker and teaches safety procedures to coworkers on construction sites. Ganesha adds fun appeal to the instructional program.
Ganesha being a popular deity, the age old custom of invoking him at the start of any activity, and the belief that he fends off troubles and accidents adds to his aura.
A step in the right direction?
The first show of the training video was quite a hit with the intended audience. Ganesha was well liked for appearing as a workmate, and they followed his talk till the end.
Ganesha definitely had a positive impact which could be further advanced through other media.
Here's a 30 second preview, compiled with Ganesha's entertaining interludes from, the original 20 minute long safety induction video.
Link to the Full video
Language: Telugu & Hindi